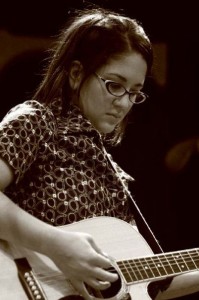 A long time ago, in a galaxy far, far away… It is a period of civil war. Rebel spaceships, striking from a hidden base, have won their first victory against the evil Galactic Empire and I really wish it had something to do with Tara Ward's music… but it doesn't. However, there is something fantastical about her voice.
Singing and songwriting since the age of five, Tara meandered into a vocal performance degree at Western Washington University in Bellingham, Washington where she hid in practice rooms for long hours and scribbled songs into irresistible notebooks that mostly never left the pages. It was during college that she practiced classical singing, forayed into jazz, sang pop songs accompanied by her guitar or piano, and wrote her first recordable songs.
Her first solo album "Credo" was recorded a year after graduation and led to the formation of the band Late Tuesday with fellow collaborators Dana Little, Caitlin Evanson (currently touring with Taylor Swift) and Jocelyn Feil. Late Tuesday quickly became well-known for their tight harmonies and hook-laden melodies. Kevan Breitinger of suite101.com said,
"Late Tuesday features the sparkling vocals of three uniquely talented women….[the band] offers soaring harmonies, airy arrangements, and insightful lyrics"
Late Tuesday toured and recorded for 7 years, producing 5 albums with producers such as Aaron Sprinkle (Eisley/Damien Jurado) and Martin Feveyear (Brandi Carlisle/Rosie Thomas), and touring from Koloa, Hawaii to Nashville, TN, but mostly dominating the Northwest. Late Tuesday retired in 2007, but still plays the occasional show together. Their music is still featured and finding placements on TV shows such as "America's Top Model", "Denise Richards – It's Complicated" and Lifetime Movies.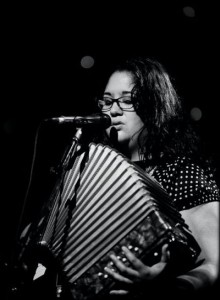 After moving to Seattle, a conversation with Zadok Wartes (formerly of the band Mercir) started another project called "Urban Hymnal". Ward, Wartes, and a couple other musicians were all in the same place, having just closed chapters with former bands. Tired of the traditional promotion models of networking, band photos, and swanky swag, they vowed to play their concerts in basements, never have an official band photo, and advertise only through word of mouth. Their first concert ended up being in the mammoth St. Mark's Cathedral in Seattle to over 400 people…..so much for keeping things small! Urban Hymnal became "The Opiate Mass", a Cathedral-Rock band taking cues from all sorts of epic from Handel's Messiah to Explosions In The Sky. With the Opiate Mass, Tara's voice gets to literally soar to new heights. Joel Hartse of Image Journal describes her voice and the band…
"Their first recording is an ambitious blend of Sigur Ros-style post-rock (vocalist Tara Ward does a kind of glossolalial vocalese), blippy electronica, chamber-pop, and neoclassical hymnody. It might be hyperbolic to say that the Opiate Mass is making the most innovative and sincere religious music in the country right now"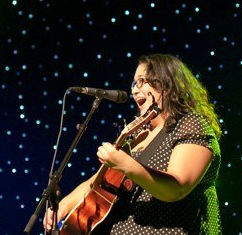 In 2009, after working with the Opiate Mass on rock for some time, Tara decided to dip back into her indie-pop songwriting and released a concept album titled "Revelations Of A Blue Jacket". The album chronicles the thoughts and emotions of a young woman after she finds what she believes to be a magical jacket in a thrift store. Recorded by Casey Foubert (David Bazan/Asthmatic Kitty Records), Blue Jacket revealed a vibrantly dark side of Tara's songwriting. The album was released in September 2009 with the collaboration of many visual artists depicting the young woman's journey.
Tara led worship at the boldly innovative Church of the Beloved in Edmonds, WA for over six years. This position allowed her to compose and arrange even more music, and act as the producer for the four albums that have come out of that community.
She has released two Christmas albums with Graham Travis under the banner of "In Mansions".
Studying under the Seattle-great Greta Matassa, she has delved into the local jazz scene, performing at venues such as Jazz Alley, Egan's Ballard Jam House, and Tula's.
Tara has a private voice studio where her unique blend of experience and compassion garners responses from her students such as the following:
"Tara knows how to gracefully guide a student toward and over their next hurdle, keeping lessons a challenge and growth a constant. The journey toward using one's voice is nothing short of a personal and physical journey and Tara always knows how to encourage growth from either direction."
Tara's newest goal is to be the soprano soloist called upon to sing in films like The Lord of the Rings.